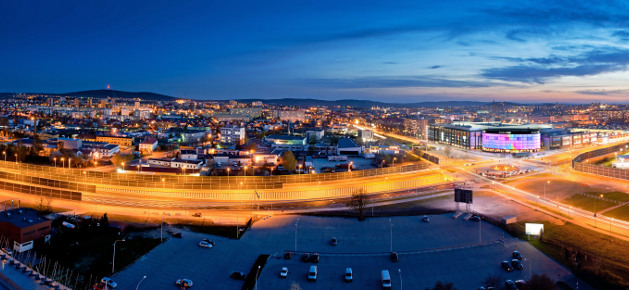 Kielce   
Kielce - the capital city of the Świętokrzyskie Voivodship - is home to 200,000 residents. It is located in south-eastern Poland, near major agglomerations including Warsaw, Lodz, Katowice and Krakow.
The wealth and diversity of its resources make the region rank with the top potential investment areas in the country. This opportunity has been seized by companies working in the BPO sector, as well as construction and metallurgy businesses and investors in the field of congresses and exhibitions, as well as healthcare services.
 
Human resources and academic background  
Kielce is the main academic centre of the whole region. 9 higher education establishments are located directly in Kielce.  The 2 public universities are the most popular among students: the Kielce University of Technology as well as the Jan Kochanowski University, which recently developed a few new specializations. 

The city has a population of approximately 200,000 whereas 20 thousand are students. Private universities present on the local market from the 90's are also quite popular, including the University of Economics, Law and Medical Sciences prof. Edward Lipiński, the Old Polish Academy of Applied Sciences, the Social Academy of Sciences, the University of Public Administration in Kielce or the University of Information Technology and Telecommunications.

Kielce invests intensively in human resources, promotes entrepreneurship and develops young talents. Practical science is the most effective way to prepare good workforce responding to the needs of the modern economy. This idea caught on very well in Kielce and for several years local secondary schools have been successfully developing cooperation with companies and universities by creating patron classes.

Vocational Training Centre TECHNIK has been operating in Kielce since September 2020. Its cost almost PLN 50 million, of which over PLN 16 million came from the city's funds. Thanks to its completion, we obtained the possibility of modern and fully professional training of professional staff for enterprises in Świętokrzyskie Region. By raising the qualifications of young employees, we increase the attractiveness of the city for companies that already run a business in it, and for those who want to invest here. VET Technik's activity is based on close cooperation with companies mainly from the IT industry and the metal and foundry industry, which are intelligent specializations of the Świętokrzyskie Voivodeship.